Stop what you are doing and brace yourself. You are about to be let in on a secret, this may be the best brownie in the whole world. It is definitely they best gluten-free brownie I've ever had. I've served this to dozens of people and they were all blown away by its awesomeness.
I have to thank Sarah at Gazing In for the original recipe; it contained wheat and oil which we avoid so I adapted it to meet our preferences. I've made several of Sarah's recipes and I always enjoy them.
Brownies (Gluten-free and Vegan)
Ingredients
1/4 cup unsweetened applesauce
2/3 cup cocoa powder
1/4 cup brown rice flour
1/4 cup sorghum flour
1/4 tsp sea salt
1/4 tsp baking powder
1/2 cup turbinado sugar
2/3 cup pureed cooked sweet potatoes (I just used a fork)
1 1/2 tsp vanilla
up to 1/2 cup plant milk, start with 1/4 cup
1/2 cup vegan chocolate chips (optional but recommended)
Do
Preheat oven to 350° and lightly spray an 8×8 pan. (This recipe doubles wonderfully, just use a 9×15 pan.)
Put all of the ingredients except chocolate chips in a large mixing bowl. Stir until everything is mixed well adding more plant milk if needed.
Fold in chocolate chips reserving a few spoonful's. Spread the batter smooth and sprinkle the reserved chocolate chips on top.
Bake for 35 to 40 minutes, toothpick will not come out clean.
Serve
Allow these brownies to cool before cutting if at all possible. They can be stored in an air tight container at room temperature but you probably wont have leftovers unless you make a double batch. Unlike most gluten-free baked goods these taste great the next day.
I hope you try these! I know you will enjoy them. They are now my favorite dessert!
This recipe is being shared at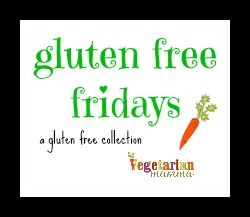 Last week my Chickpea-Quinoa Stir Fry was chosen as one of the favorites!